Well the wedding dress shopping was great! I absolutely loved it! Amy tried on a lot of dresses, most of which were lovely. There was one that I absolutely loved, a lace one, and I'm pretty sure was one of the others that I tried on when I went. Amy was trying to decide between the lace one, or the very first one she tried on back home. Well she texted me yesterday and has decided on the 'other' one, the one that I haven't seen, so I'm excited to see it, only 4 months to wait!
I have 3 weddings (so far!) this year, and my first is on my wedding anniversary on 22nd May. I have been trying to find a dress that would do me for all 3 weddings (luckily different people are going to all 3) but have been struggling a bit. I wanted one that wasn't 'high street' especially as there are lots of women of similar age to me going to the first one.
I have been looking at this Anthro one for the past 3 weeks, pretty much every day.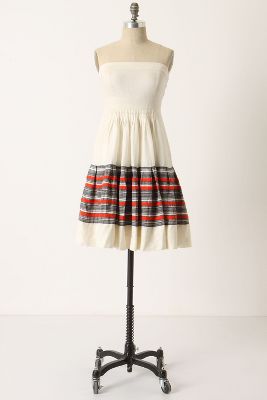 but my concerns are that its white (hence a bit bridal), possibly not smart enough and online (so might not fit). And £148. I also really love a load of French Connection dresses, like
or
but what are the chances of someone else wearing a exactly the same French Connection dress????
So what have I done? Well I bought a Karen Millen dress from the outlet store at Gunwharf Quays. And then came home to look at their website and find its current stock. Bollocks. So I am now going to spend the next 2 weeks worrying that someone else will be wearing it.
And I'm not going to post the website pic of it as it doesn't look so good.
And if the Anthro one happens to go in the sale in the next 2 weeks, I may well get that one too. (Pllllllllllleeeeeeeeasssssse!!!)